INFINERGY®

INFINERGY® technology has been recognized by the Occupational Health and Safety Profession, which awarded it the 2018 Innovation Grand Prize.
Jallatte ® strives to improve the well-being of workers with new technologies and solutions, dictated by more and more demanding restrictions. Jallatte ® and BASF have combined their knowledge to offer you a new sole, the result of the latest collaboration of research and development, using a new high-performance material: BASF's expanded thermoplastic polyurethane:
E-TPU: Expanded Thermoplastic PolyUréthane
Which is marketed under the name
Infinergy ®
.
Elastic like rubber but lighter, this innovative expanded TPU (E -TPU) combines, thanks to its closed cell technology, TPU properties with the benefits of foam: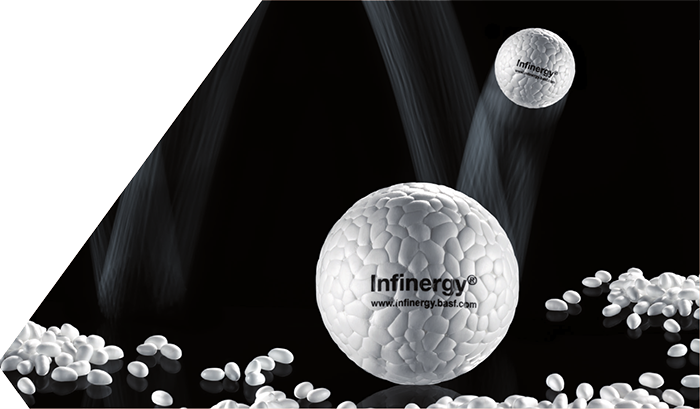 Low density (about 0,25)
High elasticity
Lightness and softness
High resistance to abrasion
High resistance to traction
Good chemical resistance
Very good long-term durability in a wide range of operating temperatures
An exceptional resilience (that has an extraordinary ability to return energy).
BECAUSE YOU ARE BETTER WHEN YOU FEEL GOOD !
One of the most important characteristics of Infinergy ® from BASF is the excellent elastic memory, thanks to its closed cells structure and to the original molecular architecture of the polymer.
The "rebound test" for elastic resistance, a test method determined by ISO 8307, proved that the E-TPU rebound coefficient is more than 55%, much higher than all other polymers available on the market.
A technological innovation from the running world now available for the safety shoe.